---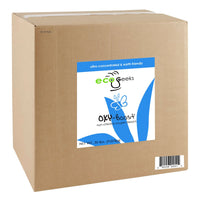 20lb Bulk ecoGeeks Oxy-boost Oxygen Bleach Bulk- Free Shipping!
Experience the amazing cleaning and deodorizing power of ecoGeek's OXY-Boost in your laundry and in 100s of applications around the house.
OXY-Boost is a safe, effective alternative to chlorine bleach. Our bulk oxygen bleach is great for removing stains, smells, dirt and grime; you can clean your house inside and out using ecoGeek's Oxy-Boost.
Ingredients: Sodium percarbonate, Sodium carbonate (soda ash) uniquely coated with vegetable coating to preserve potency and freshness.